Leather Scuffs, Scratches And Other Damaged Can EASILY Be Repaired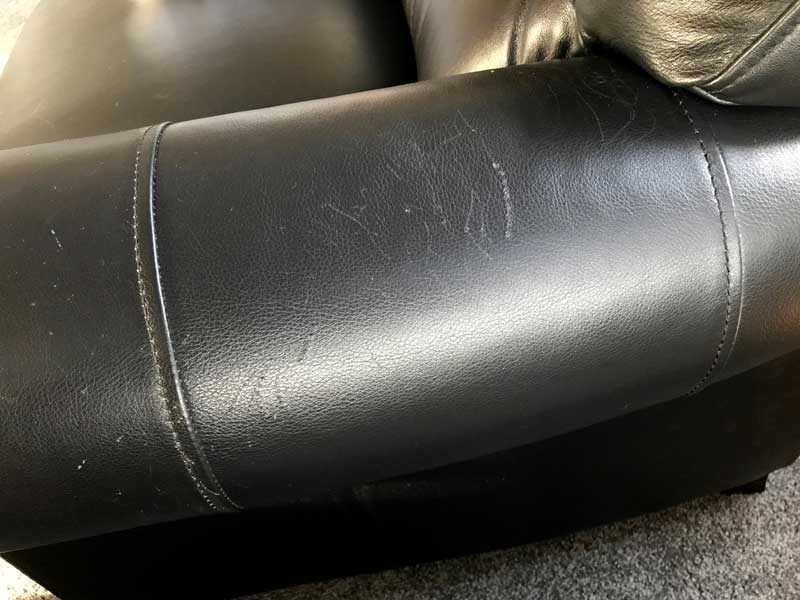 Leather is used to make a wide range of products such as lounge suites, car seats, jackets and more. It is also associated with 'quality' and 'durability' ... that's when it's in new or un-marked condition.
But sooner or later, the inevitable happens ... scuffs and scratches mysteriously appear on the surface. When this happens, most people are at a loss as to what to do and think that very little if anything can be done to make those unsightly marks disappear.
The good news is, leather can be repaired a lot easier than most people think. Here's a photo of a leather chair with some serious cat scratches and an 'after' it's been repaired ...

Here Are Some MORE Examples ...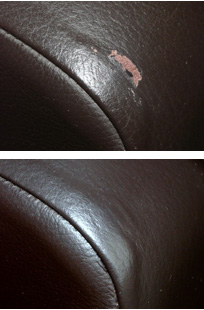 A trainee and good friend, Andre, kindly sent me a selection of his before and after photos which graphically demonstrate the possibilities ... so, I decided to show them to you as well ... thanks Andre. You'll find a link to Andre's website on the leather specialists page.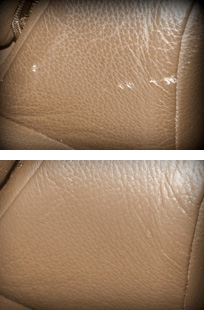 What Is The Repair Process?
Leather damage is fixed using glues and fillers which are compatible with leather and custom matched colour.
How To Get Your Leather Fixed
You have 2 options:
Have it fixed by a professional. If you live in the South Island, I can do this for you. Alternatively, you can contact a professional close by ... some listed here.
If you are interested in doing it yourself, I can supply you with the products. Product info here. Can A Novice REALLY Do These Sorts Of Repairs? Absolutely yes. It really comes down to your expectation, how confident you are and your level of skill. Most people are absolutely thrilled at making the damage un-noticeable without paying for a serviceman.
What About More Serious Cracks And Rips?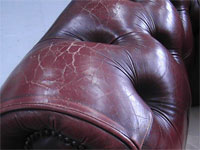 If your leather has light surface cracking, then these can definitely be improved and is well within the realms of diy restoration.
On the other hand, for rips, tears and deep cracks, I would have the damaged panels or sections replaced with new leather, then colour matched to blend in with the original. This needs to be done by a professional.
Can rips, tears and cracks be repaired using the processes in the above examples?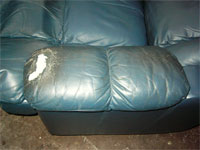 I don't recommend it because once the leather substrate has been broken, it has lost its strength and a 'repair' will only be temporary.
For me, personally, I go for 'long term' results. That's why I don't hesitate to have the leather panel or panels replaced.