DIY Leather Repair
Leather repair is a lot simpler than most people realise.
I would like to show you how to quickly and easily repair:
Scuffs
Abrasions
Cat scratches
Colour damage
It doesn't matter if the damage is on your leather couch, lounge suite, car interior, office furniture or even your leather jacket. The technique I'm going to show you, will work on any of these items.
IMPORTANT: Before using any repair products make sure you know what type of leather you have. If you are not sure, have a look at identifying your leather.
What types of leather are suitable for DIY repair?
As long as the leather is TOP FINISHED or SEALED and has a single colour (not mottled or 2 tone), you'll be able to repair it yourself, at home.
If your leather is anything other than mentioned above, I recommend you take it to a professional as these will usually require a high level of skill to get it looking right.
Here's An Example Of A Leather Repair ...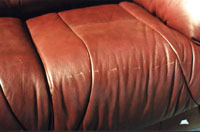 This is a leather couch I repaired in my workshop.
As you can see in the first photo, there are a series of scuffs running across the front of this leather seat cushion.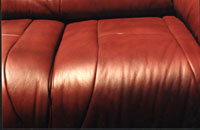 The second photo shows the leather couch AFTER the repair. And as you can see, the repair is virtually invisible.
So you see, depending on your level of expertise and your confidence, there is no reason why you can't achieve good results yourself.
Here are some examples of the type of damage you'll be able to fix: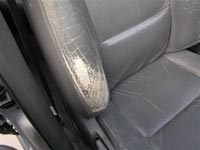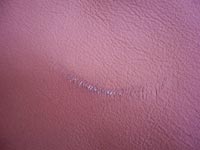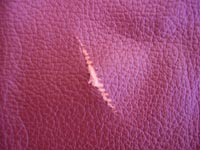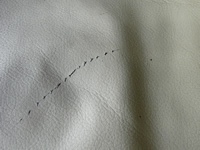 How To Repair Cat Scratches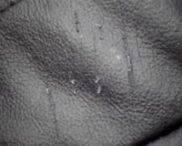 For full instructions and a video on repairing cat scratches, click here.
How To Repair Scuffs And Other Damage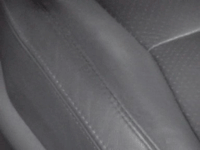 For full instructions and a video on repairing scuffed leather, click here.
Can Cracked, Ripped, Burnt Or Torn Leather Be Repaired?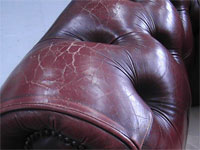 Can rips, tears and cracks be repaired using the processes in the previous pages?
I know there are people who claim they can successfully repair this type of damage, but personally, I see these as a short term fix.
The reason is, once the substrate of the leather has been compromised, it has lost it's original strength.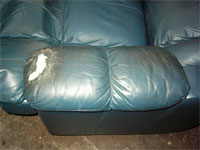 This may not be such a problem in areas like the outside back of a couch or a mostly out-of-sight area, but in 'high-traffic' areas, such as seat cushions, I don't recommend it.
DIY repair in these high wear situations usually don't last and will almost certainly look a mess
Instead, I would have ripped, torn, or cracked leather panel or section replaced with new leather and then I would colour match the new leather to match in with the original.
For me, I go for 'long term' results. That's why I don't hesitate to have the leather panel or panels replaced.
If you have a look at leather restoration, you'll see examples of this type of work.