Now You Can Restore Your Faded And Worn Leather ... For Results You'll Be Supremely Proud Of!
If your leather is worn, faded or just plain tired, now there's a simple way to restore and recolour it to its original without having to replace it ... or reupholster it. Furthermore, if you would like the satisfaction of doing it yourself, then this article is for you.
Now, let me point out, if you don't want to attempt your own restoration work, you can still have it done professionally.
The best part is, you don't need any specialised equipment and you can do this in your own home. And I can supply you with the leather products custom colour matched to your leather.
Let me show you what's possible ...
Faded Leather Couch Restored To Original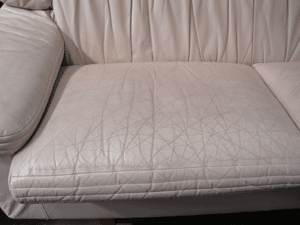 Usually when leather gets to this stage, most folks think that nothing can be done to bring back to its former glory, so they either 'put up with it' ... or spend a fortune replacing it.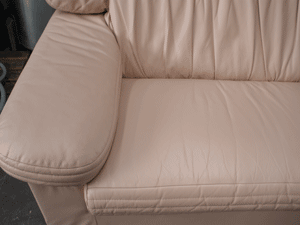 You see, when leather starts to look shabby, in most cases the finish or the colour on the surface of the leather has worn off and can look stained or discoloured.
This is very common with upholstery leathers. Many people think that when it gets to this stage, they will have to spend thousands of dollars on reupholstering or replacement, but not any more.
Can Leather Car Seats Be Restored Too?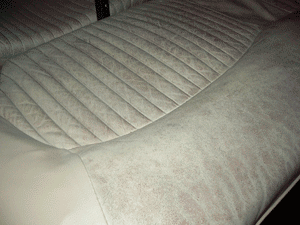 If you have leather in your car and it's looking a 'little worse for wear', then cheer up ... help is at hand!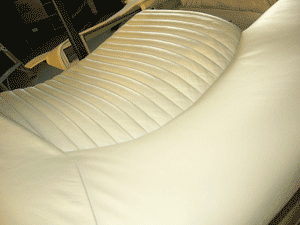 When the upholstery in your car look fantastic, it's amazing how the entire car feels totally transformed ... and improved in value as well!
Here's Another Example ...
Here's another example of the ideal project for restoration ... leather which looks raw and cracked.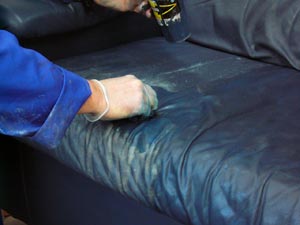 How Does The Leather Perform Once Restored?
All of the resins and pigments I use are EXACTLY the same as used in the tannery. What that means is, your leather will look, feel and perform the same as the original leather finish.
If You Would Like Your Leather Restored Back To Original, Here's What To Do
You have 3 options:
DIY Leather Restoration
Professional Leather Restoration
Or ... Have It Done By A Professional
Let me explain.
1. DIY Leather Restoration ...
This is a simple wipe-on leather restoration product which you can use at home, without the need for any specialised equipment.
This is ideal for tidying leather as shown in the example above.
For full details here.
2. Professional Leather Restoration ...
If you would like to use the same system I use for professional results, you will need compressed air spray equipment (up to 40 psi continuous is fine) and a well ventilated garage or workshop.
This system will give you the best results.
If you are interested, send me some pictures of the work you want to do and contact me for further information.
3. Have It Done By A Professional
If you live in the South Island of New Zealand, I am based in Timaru and I am available for restoration work.
To see examples of my work, check out my website: www.paulfordleather.co.nz