How To Keep Your Leather In Top Condition
Leather Help is all about helping you understand your leather and providing helpful information and advice, to get the absolute best from your leather.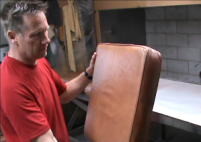 First, let me introduce myself.
My name is Paul Ford and I've been professionally restoring leather since 1982. What this means is, you're about to tap into over 36 years experience ... so rest-assured, you're in good hands.
If you would like to see some examples of my work, have a look at www.PaulFordLeather.co.nz.
To help you find the right information, I've listed some of the most popular sections below.
Would You Rather Have It Done Professionally?
If you are looking for professional to repair, care or restore your leather, have a look at my website www.paulfordleather.co.nz
I am based in Timaru, NZ, but work is sent to me from all around the country. If you would rather deal with a specialist closer to you, I have a list here.
Need Any Help Or Advice?
If you want some help and advice with your leather, or you are unsure about anything, I am more than happy to assist you. Just go to the contact page, send me some pictures, or an email or give me a call.