Leather Care, Repair And Restoration
Step-By-Step Instructions ... Easy To Use Leather Products!
Here You'll Find Everything You Need For Leather Cleaning, Conditioning, Protection And Also Repair And Restoration Of Damaged Or Worn Leather.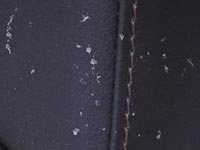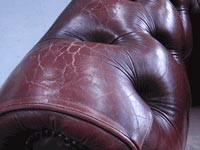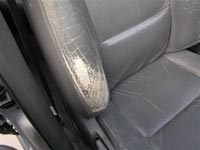 You will be able to:
Repair Leather Scuffs And Scrapes
Fix Cat Scratched Leather
Clean, Condition And Protect Your Leather
Restore And Recolour Worn And Tired Looking Leather
The instructions and products are ideal for leather upholstery in:
Cars
Furniture ... home or office
You may not realise it yet, but ... you're about to tap into over 30 years experience ... let me introduce myself:

My name is Paul Ford and I've been professionally repairing and restoring leather since 1982. So you can be rest-assured ... you're in good hands!
Something else you should know ... the products shown on this site have been tested and approved by LASRA (International Leather Testing Authority)
IMPORTANT: Before using any care or repair products on your leather, it's vitally important you know what type of leather you have. If you are not sure, have a look at identifying your leather.
To help you select the right products for your leather, here's a quick reference guide which will show you what to use. To go to quick reference guide.
To help you find the information you're looking for, please select from one of the following links:
DIY - Leather Care
Step-by-step instructions showing how to clean, condition and protect your leather with the right leather care products.
NOTE: These leather care products have been independently tested and proven to DOUBLE the wear-ability of leather.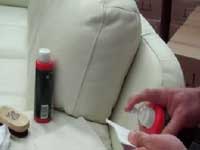 DIY - Leather Repair
Step by step instructions and products for repairing minor damage such as scuffs, scratches, cat scratches, nicks and scrapes.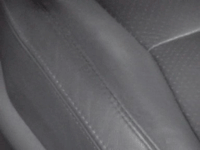 DIY - Leather Restoration
Here's a simple wipe-on restoration product for restoring worn, faded and tired looking leather upholstery ... without the need for specialised equipment.
Here's an example of what can be done with a cracked, worn leather seat.
If you would like to have a go at recolouring or rejuvenating your lounge suite or your favourite chair, here's where you'll find detailed instruction on restoring leather.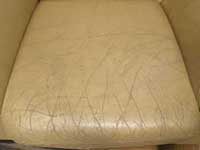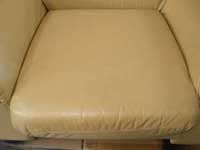 Or ... Would You Like It Done Professionally?
If you would rather have an expert repair, recolour or restore your leather, you are more than welcome to give me a call.
I work from my home workshop in Timaru and leather items are sent to me from all over NZ.
To see examples of my work, check out my website: www.paulfordleather.co.nz